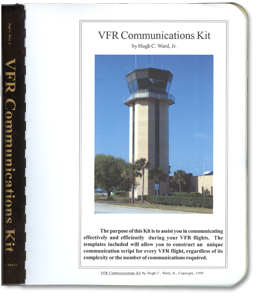 If you're a student pilot, you are becoming aware of the procedures and scenarios required for VFR Communications. If you are a flight instructor, you probably have taught student pilots that have trouble with the rapid pace and correct phraseology required to smoothly communicate with other aircraft and air traffic control towers.
As a flight instructor you also know how challenging it is for student pilots, foreign language student pilots, and pilots who are returning to flying after many years to conquer VFR Communications procedures. Also, you know how important it is to contact departure or approach control with competence, clarity and confidence—even in the most stressful or time dependent of situations.
As many student pilots, CFIs, and even seasoned pilots know perfecting the art and science of communicating properly with the air traffic control tower and other pilots is easier said than done.
How Do You Memorize VFR Communications?
Frankly, you can't just memorize VFR Communications in a vacuum. There are multiple categories of what and when certain communications are used.
All VFR Communications revolve around the memory aide that reflects the basic structure of VFR Communications, called the WHO-WHO-WHERE-WHAT communicating sequence.
"WHO" stands for the type of aircraft you are flying and its ID number.
"WHO" stands for to whom you are talking, such as an airport control tower, or another pilot in another airplane.
"WHERE" stands for your location relative to the airport or another aircraft.
"WHAT" stands for the action you wish to accomplish.
As with most skills, practice makes perfect. However, that doesn't stop individuals from coming up with all sorts of strategies or shortcuts to perfect their VFR communication radio skills.
It's common to see students (and even CFIs) jot down reminders on scrap paper, memorize rhymes and acronyms, and invent various tricks–or cheat sheets–to avoid miscommunication.
With the VFR Communications Kit, life long educator and pilot Dr. Hugh Ward of H.C. Ward Co., has done the hard work for you, establishing a simple, but incredibly effective, VFR communications guide complete with in-flight templates for each phase of a total flight: from taxing, takeoff, cruise, entering controlled or uncontrolled airspace, landing, and finally to taxing to the ramp or hanger.
Each of the templates in the VFR communications guide matches the protocol for the phase of flight in a variety of airspace classifications. When assembled in the sequence of a planned flight, they serve as guides, scripts, memory aides, and/or references for each expected VFR communication in each phase of flight.
Since the VFR Communications Kit was initially offered to the public in 1999, thousands of pilots have successfully used the templates to create scripts for their individual flights. With practice, some pilots only need to use the "flight communication scripts" after a few trips to get competent and confident in their VFR communications.
However, a number of pilots continue to use the scripts as references, even after getting "good" at VFR communicating. A simple VFR communication preparation lowers the pilot's workload during the flight, keeping him or her confident, competent and in control.
How Do I Know Dr. Ward's VFR Communications Kit Will Work for Me?
Dr. Ward is a lifelong educator and has been the lead consultant for H.C. Ward Co. since 1980. His process of developing materials is based upon doing extensive research, product and services development, and rigorous testing before any products and services are offered to the public. He has spent many years developing education and training materials that have successfully assisted students in a variety of subjects and careers.
What Makes the VFR Communications Kit Different From Other Aviation Communications Products?
There are a number of aviation communications-related products available that depend on simulations, videos, audio recordings, and books, which have extensive written explanations and descriptions. While they are all useful for general practice, the H.C. Ward Co. VFR Communications Kit is the ONLY product currently available that allows you to prepare and practice during your pre-flight, your expected flight communications script before beginning a real flight, AND you can use that prepared flight communications script in your actual flight.
How Did H.C. Ward Develop the VFR Communications Kit?
Dr. Ward's initial experience with aviation communications was not a good one. Many years ago, after a rather awkward incident as a beginning pilot, Dr. Ward came to know all-too-well the embarrassing consequences of flubbing radio communications while talking to controllers during arrival and departure to a controlled airport.
To create the VFR Communications Kit, Dr. Ward combined his passion for aviation with his extensive in-flight experiences as a practiced pilot to create a one-of-a-kind VFR Communications Kit that has a high success rate with aviation communications training, and has received praise among the aviation community.
Upon learning he wasn't alone in his awkwardness in VFR communications, and that many pilots of varying abilities and experience had similar situations, Dr. Ward created an aviation education model that has helped a number of individuals make the transition from hopeful beginner to a respected professional by using the VFR Communication Kit and many other aviation related products.
Who Can Benefit From the VFR Communications Kit?
Student Pilots
CFIs (Certified Flight Instructors)
Foreign Language Student Pilots
Out-of-Practice Pilots
Pilots Needing to Prepare for their IFR and/or ATP Ratings
VFR Communications are applicable in the usually uncontrolled Class E and G airspaces, but they're also the foundational roots of air traffic control tower communication in the somewhat congested Class D and Class C airspaces, as well as the high altitude airspace in restricted Class A or the highly-congested Class B airspace.
Mastering VFR Communications now will help you become confident for years to come—even in IFR weather conditions.

Exactly what is in the VFR Communications Kit?
The kit contains the following specific templates:
Also included in the VFR Communications Kit:
A "who can use this kit" section
Script assembly instructions
VFR communications template guide based upon airspace requirements
A couple of flight communication script examples
Template descriptions and usage tips
Several copies of each communication template (each measuring 4.5" X 8.5" matching all phases of radio communication for VFR flights, for any class of airport)
What About Guides for More Advanced Procedures, Like the IFR Radio Communications?
The H.C. Ward, Co. collection of aviation teaching materials also includes aids for mastering a variety of aviation models and techniques, as well as instructional materials and teaching aids for more advanced pilots, like the IFR Communications guide for inclement weather and more restrictive airspace classifications.
In a Nutshell:
The VFR Communications Kit is helping pilots of varying classifications and abilities become confident, efficient and competent communicators.
Think of the sequence of VFR communication templates as in-flight "Scripts or Speech Notes" that will help you during those hectic or sometimes confusing arrival and departure procedures when speaking with the air traffic control tower.
The H.C. Ward, Co. VFR Communications Kit includes a comprehensive selection of templates for every phase of VFR flight, helping pilots and instructors quickly prepare and continuously reinforce, proper VFR Communications. Also included is information about the basic structure of VFR communications, explanations of the rationale of each template, and a couple of examples of scripts for several typical VFR flights.
Dr. Ward's Promise: "After just a short number of flights preparing and using the flight communication scripts, you will hear the difference."